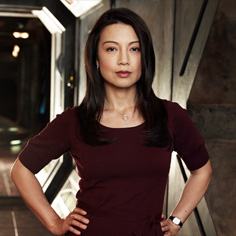 Roughly two weeks after Joss Whedon(Avengers director) and Kevin Feige(Marvel studios President), announced that Clark Gregg will reprise his role as Agent Coulson, in the SHIELD TV series, Deadline reports today a second, official, casting for the series.  According to the report, Asian actress Ming-na (known for her role as Chun-li in the 1994 street Fighter movie, as well as a more recent role in Stargate Universe and ER) will join the series as SHIELD agent Melinda May.
Deadline describes the role as: "Soulful and slightly damaged by her combat experiences, Melinda is an ace pilot, a weapons expert and a soldier who can — and has — gone beyond the call of duty. The character was originally listed on the pilot's casting breakdown as Agent Althea Rice, aka The Calvary"
With two casting news in less than two weeks, it sure seems that the series pilot is getting ready to be filmed. Let's hope we hear more casting news soon! Oh– and we are still hoping that agent Quatermaine will be part of the series.
Recent reports from "insiders" state that Marvel will use the series to introduce Marvel Superheroes and villains to the MCU (Marvel cinematic Universe).
What do you folks think about this casting news ?
source: Deadline
Like this post? Share it with your friends